This is where I keep little projects of mine, stuff I've made for family and friends. These days I don't get to code much at work, but rather work as Product Owner and do stuff to do with product - market fit. It's great fun, but I'm also very proud of the things I've coded!
The wife of the architect, for whom I made this site, decided she wanted a site like it for her company as well, so this was what I came up with. It's got a similar navigation, and the CMS behind it is exactly the same (when you find something you like, you stick to it, right? Well, I basically like CK Editor, so I always go with that one.) but the image focus is different. For Studio Z, which is an architects show off page, of course there needed to be a heavy focus on images, but for an accounting company, there really isn't such a need. We decided to use images she and her husband have taken (hobby photographers) as background image, and I got to test out writing a script to resize the image according to the screen height. Since me and JavaScript aren't really compatible, it was a bit of a challenge, but as the saying goes, the fiftysecond time's the charm!
Every page, along with every pages background image, is editable by the user, so whenever she gets bored with one of the background images she can just add a new one. The app also includes a small blog where she can post updates from the accounting world.
The really fun thing with this website was that I decided to do a completely different layout for tablets and phones, so the design above changes and becomes this in tablets:
I kind of like it, and the owner is very happy with it. And that's the most important thing, after all. There are still a few minor things to fix, as always, but I'm sure I'll get it right... soon :)
---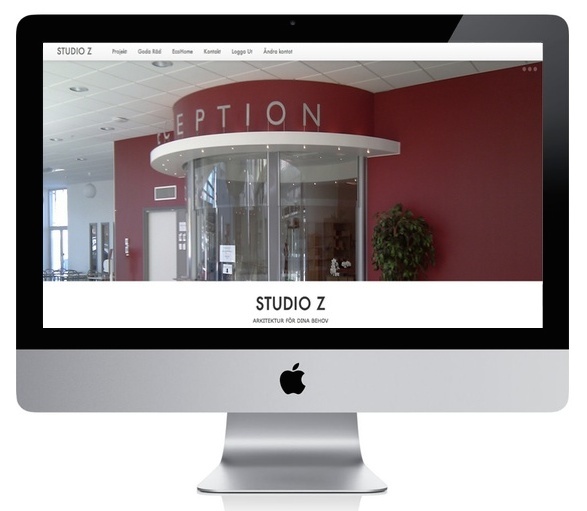 This is a website with complete CMS that I made for an architect, who needed a website to showcase what he'd worked with. It's built in Ruby on Rails (of course) with a postgres database and hosted on Heroku. The most important bit to the architect was that is was simple to manage, as he describes himself as very much not web savvy. He wanted focus on the images, and a nice way of displaying all of the many projects he's been involved in over the years. The startpage has an image carousel featuring three chosen project images from the Projects page, and then some info about the company that he can easily update himself.
The Projects page contains all the projects that have been added and can then be filtered down by categories, to find exactly the type of project that the viewer is interested in. The owner can easily add new projects and categories via the CMS.
So this was my solution. As I'm not much of a designer, I've tried to keep the design minimalistic, while still focusing on the images. The architect is happy with it, and I feel quite proud of it! The site is of course responsive.
---
This site was built in Ruby on Rails, with a Postgres database and hosted on Heroku. I use New Relic for monitoring (and pinging, I know, I'm a horrible person) and the Device, Cancan and Rolify gems for authorisation (it's a lot of an overkill, but I wanted to try them), as opposed to the Welcome app, that simply has omniauth. I've the Friendly ID gem for for nicer url's, as well as the Acts as taggable gem for... well, tags. The editor used is called CK Editor, and apart from the fact that it fucks up if you try to post from mobiles, I like it. The images are stored on Amazon S3.
I made this site while I was involved in a responsive design project at work, so I thought it would be both interesting and useful to make this site responsive as well. I originally used the Twitter Bootstrap framework to get it looking decent, but then switched to Foundation by Zurb. I must say I like that one much more, it has such an easy way of customising the css, and is built to be responsive.
I pretty much built it because I needed the practise, and because I needed a place to explain stuff for training sessions at work, but these days I use it as a blog. And as soon as I find something new that I want to try, this is where I do that!
Currently, I've been trying out different plugins, like Disqus for commenting, Addthis and then Sharethis for social sharing, as well as reading up on UX and giving the design of the site a bit of an overhaul. There's always somthing new to try!
---
This is an ipad app for Kiosk mode, to let visitors sign in simply. The visitor adds their name, company and chooses the time of the appointment. Then starts typing who they're meeting with, and the app will suggest auto completion on that name. Once signed in, an email is sent to the employee the visitor is meeting with, to let that person know their visitor has arrived.
It's a simple enough process, and gives our customers a more web savvy first impression. Also, it saves our office manager from running all around the office trying to locate the employee in question as soon as a visitor arrives.
It also functions for security purposes as it lists all current visitors, and allows employees to sign out a visitor after they've left. That way, if we have a firedrill, or for other reasons need to know exactly who, besides employees, is in the building, the app will give that information.
The app is in use at Mynewsdesk in Stockholm, and is being taken into use at our office in London. It's written in Ruby on Rails, with Twitter Bootstrap to make it slightly prettier, and it was written as a four week exam project as I finished my degree in Agile Web Development at KYH.
---
This is a very simple website I made using only html and javascript (obviously css as well...). It's for a bookkeeping company, who mainly felt the need to have an internet presence, other than that there where not that many requirements.
The companys slogan, Bokföring och en kopp kaffe, translates bookkeeping and a cup of coffee, so they decided to go with coffee tones for the site, and also incorporate the coffee cup in the design.
The app was made in early 2011 and is still live, though not maintained by me.
---