I am aware I haven't exactly been very good at updating lately, which I will mainly attribute to being insanely busy. September included Baruco and the trip to Barcelona, which I believe I already told you about, and People Days in Berlin, which I have not yet told you about.
Basically, I am insanely fortunate to work at a company that evaluates itself mainly on how much people love working there. Let's just take that again, shall we? You read it right. My company measures it's success on how much we love working there. Based on that, I'll say it's a raging success. But I'm getting side tracked. Berlin. My lovely company just flew 120 people over for 36 hours, to spend our annual People days in Berlin. To celebrate we just opened in Germany. Great talks, workshops, drinks, live music with a band that took the roof of the place, the works. I may be skint having spent my salary on babysitters, but I had a great time!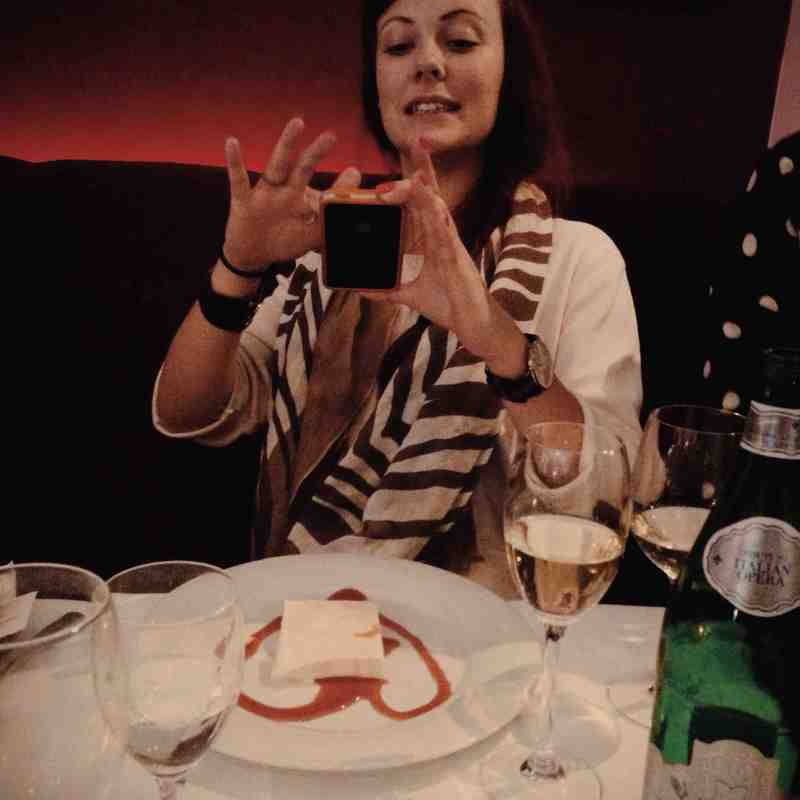 My sweet friend Fia is getting special treatment and enjoying it like no tomorrow. Also, you know, hipsters taking pictures of food...
Lovely Li is all dolled up for the party in Berlin. She looks so amazing in this picture I think!
Well, yes, there were drinks, and then I'd had too many to remember to take more pictures. That happens. :)
October is so far trying really hard not to be less interesting, so it's offered our annual Mynewsday, for which I was tweeting and it may or may not have been a coicidence (it is completely a coincidence) but while I was in charge of our twitter account, @mynewsdesk_se, the hashtag of the day #mnday was trending on twitter. Kind of cool no? Oh, and also no big deal, but that led to an article by our lovely internal journalist, which you could read here (especially if you like reading me ramble).
Fredrik Rahnasto doing a stellar job at presenting at Mynewsday. Who knew he was so funny??
There were goodiebags. Soooo many goodiebags. I feel bad for the people packing them, but hopefully the people receiving them were happy enough to make up for it!
October is also offering up a trip to see my lovely UK team next week, which will be great! I haven't been over since August, and even though I got to see them all during People days, it's not the same as being there in person. On Tuesday we have an exciting product strategy day, and next morning at 4am I'm off! And yes, there is a slight chance I miss the flight. What can I say, I like living on the edge...
Oh yes, and getting back to the picture of me that I started with. I'm guessing you wonder why that's there? Well, following a discussion from last nights drinks, I figured a semi-public annoncement is in place: I've officially given up on my daily struggle with the straightener and am wearing my hair as it irrevertibly returns to as soon as I touch humdity - curly. If you see me and think I look odd - no, I did not decide to go for an eighty's perm, I've just given myself an extra twenty minutes every morning. End of anouncement. Sorry for the really long post, but it was either that, or like five of them. Honestly, what would you have prefered? I know, I know, I will get better at updating more often again.
P.S. I know the comments thing is broken. I know I need to figure it out. But you hardly ever comment, and I am short on time. So if you think about it, it's really your fault. Somehow. I'm not really sure how, but I'll work it out and get back to you, ok? Or I'll just fix the comments function and then you all comment like mad. Deal? Deal!