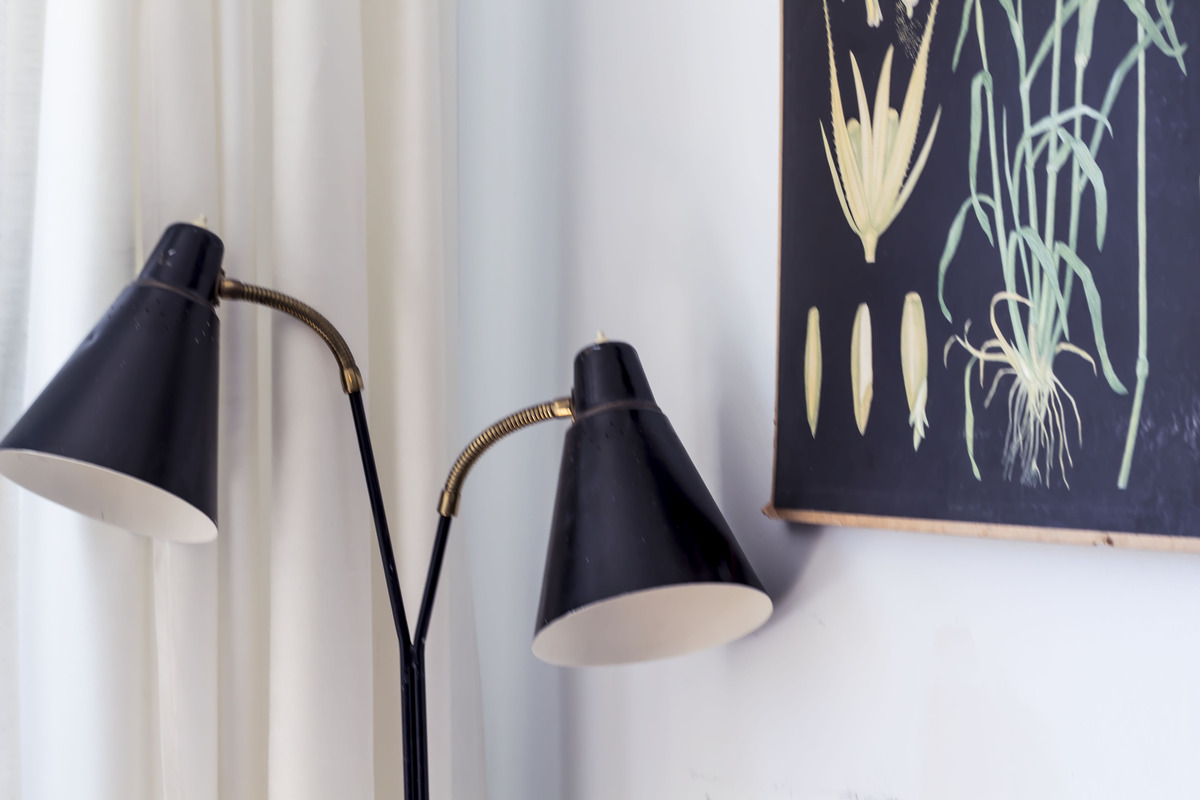 Love the combination of my fifties lamp and old school poster of wheat on black!
It started as we came home from Paris. Filled with inspiration and team-feeling we started trying to clean up the flat after 48 hours of baby sitting. And after about three hours of cleaning and the house not looking any bit better, we sat down for a much needed break, and emergency council. Why was this not working?
As I've mentioned before, for rather morbid reasons we've decided to stay in our tiny flat in the nice area. But with two adults, three quite grown children (not to mention three cats) and a house with an open door policy, it's getting cramped, crowded and impossible to tidy. It's not that we're insanely messy as people, more like we have no place for a lot of things, and as a result, they simply move from one spot to another, and the house just never feels clean.
One of my darlings that I hope not to kill: an old brass lamp standing on some of my favourite books, and a dr westerlund flower from my grandmother (one of the only things I have from her), that smells amazing if you rub the leaves!
Also, we don't have places for everyone in the living room, resulting in someone (Ilir) sitting on the floor (this is not as cruel as it sounds, as for strange reasons relating to his origin, he's surprisingly fond of sitting on the floor, but still - I'd prefer having enough seating), and finding a spot to do homework is a nightmare.
Before I showed you our kids room solution with a triple bunk bed, and funnily enough those posts of the kids room are the most searched for and visited posts. Anyway, we're pleased as punch with our kids room makeover, and so after a few futile attempts at quick fixes, we decided to treat the rest of the flat to the same makeover. Our goal for the summer is to make our two bedroom flat into a functional and beautiful home for five, where we're often up to nine people. It sounds like close to impossible, but then again so did building a functional bed / playroom for three kids, but we managed that one, so I'm hopeful.
My favourite plant - a snake plant in a concrete flower pot - and new sofa, an IKEA Stocksund in dark gray (sooo comfy, but only fits three...)
There are no sacred cows here, no inside-the-box thinking allowed, and I'll (try) to kill my darlings. I boost myself remembering how great the kids room turned out, but then I remember that this time it's our bedroom, hallway, living room and kitchen. It's figuring out spaces to eat, play, study, have alone-time and socialise with guests and family. That's one tall order!
Trying to choose the perfect greige wall colour - can you see there are three different grays on that wall?
Anyway, I'm really chuffed we're trying to stay in our flat, even if it might be a bit of a challenge finding solutions to all the different needs, but hopefully by the end of the summer we've made this work, and can start looking for summer houses as a reward! (That we in turn spend most of winter renovating...)